The HIPAA Communication Center handles all incoming and outgoing EDI traffic with Trading Partners. It down- and uploads EDI files from VANs, checks email boxes and processes email attachments and administers an FTP server. All incoming files are read, examinied and logged. TA1 and 997 acknowledgements are created and returned to the sender. Staff is notified through email of the arrival of new files. Files are then moved to their respective folders for further processing with the other parts of the HIPAA Suite


EDI files can be received in a variety of ways. On way is to sign up with a VAN, a Value Added Network. Typically a payer or provider signs up with such a VAN and sets up on the VAN's server a mail box for incoming and outgoing EDI files.


Another way is to set up an FTP (File Transfer Protocol) server locally and allow trading partners to deposit their files in an inbox and to remove files destined for them from an outbox folder. This approach gives great independence and it is very cost effective.


A third way of exchanging EDI files is through email attachments. Email has many advantages. It is ubiquitous and simple. Encryption and data security solutions are widely available. Routing parameters are not important, the email is send straight to its destination.


The HIPAA Communication Center is designed to facilitate and administer all these EDI exchanges. Here is the basic workflow:
Email accounts are scanned to new files. Attachemtns are then downloaded and placed in the inbox
VAN accounts are checked for new files and those files placed in the inbox
Through FTP an EDI file or many EDI files are deposited by trading partners in the Inbox.
HIPAA Communication Center scans the Inbox every minute.
If files are detected, those files are then analyzed.
The sending trading partner is detected and the rules for the partner are loaded.
A 997 EDI acknowledgement file is then produced and send back to the trading partner.
Warning of EDI errors are also generated and send back.
A log file with time and date of receipt and those warnings is created.
Staff at the office receives an email message with the basic information of the new file.
The file is moved to a specific directory for further processing.
The Inbox is "cleaned".
"Bad" Files can be rejected according to rules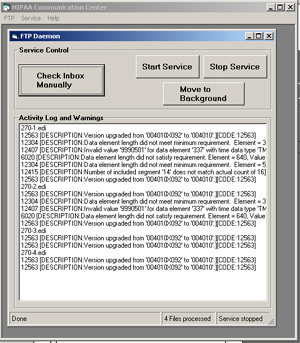 Fig1 The FTP Inbox is checked and files are processed



Trading partners are set up and the rules for communications with them are established with the following interface



Fig2 The Trading Partner screen. (Click to enlarge)



The FTP Inbox, outbox and location for control files are setup with this screen

Fig. 3 Basic setup



A log on all the processed files and the results of the anaylsis are kept and displayed through the following screen.



Fig. 4 The Log file. (Click to enlarge)


A build-in FTP client allows also the process files from VANs or trading partner's FTP servers


Fig. 5 Thebuilt-in FTP Client. (Click to enlarge)


The FTP Server is administered through the Windows Internet Information Service, which is called from the HIPAA Communication Center

.



Fig. 6 The Windows IIS Service. (Click to enlarge)