The HIPAA Claim Printer prints X12 837 EDI files onto the standard Claim forms, HCFA-1500 and UB92. Its built-in EDI translator parses the information from the electronic file. The forms are rendered electronically and can be printed on paper, displayed on the screen screen or saved as an image file.

The HIPAA Claim Printer serves many purposes.
It provides the ability to process HIPAA compliant claim files without a huge investment in a new claim system or the re-engineering of processes and software
Workflow systems and image libraries that rely on scanned claim images can now use the HIPAA Claim Printer to produce those images
The HIPAA Claim Printer can be integrated into a workflow system. You can bring up a claim on the screen through a command line call with the EDI file as argument.
The HIPAA Claim Printer can be used as a testing tool to visually inspect the results of an X12 conversion.

Download a free 15 day trial version
Here is what customers are saying:
HIPAA Claim Printer allowed us to integrate EDI into our workflow system while maintaining the familiar claim formats to our claims adjusters and other staff. This made viewing and printing 837's painless, non-disruptive and cost effective. HIPAA Claim Printer is a great tool that we can recommend unequivocally.

Don Stoller, Senior Vice President IT ------Screen Actors Guild - Producers Pension and Health Plan, Burbank, CA

"Claimviewer has provided us with the ability to print EDI 837 transactions to paper or as .tif files, which we use for both verification and as a backup solution. We've also utilized Claimviewer as a contingency plan in meeting Governmental compliance deadlines for EDI. The flexibility and ease of use is impressive."
TRAS, LLC (t/a Three Rivers Health Plan, Pittsburgh, PA)

We're developing an imaging and workflow solution for a health insurer's HIPAA implementation. They required that we be able to display and print electronic 837 transactions as though they were familiar claim forms. This looked like a huge job. But Scholl's HIPAA Claim Printer turned out to be easy to integrate, saved us countless development hours, and thus saved our customer's budget. Scholl Consulting has been easy to work with and extremely responsive to our requested design enhancements.


Charley Cross, eiStream WMS, www.eiStream.com
The HIPAA Claim Printer reads X12 837 EDI claim files and parses the claim information with it's own built-in EDI translator. It then renders UB92 or HCFA-1500 forms and fills in the data fields. You don't have to use pre-printed forms since the forms themselves are created in software code

There are three output modes, Screen, Printer and Imagefile (TIFF). Existing OCR software is able to scan the claims. The forms are exact facsimiles of the standard forms and align precisely with the originals.


Fig1 shows the HIPAA Claim Printer in Preview (Screen) mode of an institutional claim (UB92). (Click to enlarge)


Fig. 2 shows the HIPAA Claim Printer in Preview (Screen) mode a professional claim (HCFA-1500). (Click to enlarge)

The pictures above show the forms in red. This is an option that allows for better readability and the use of a red filter in OCR software. This is an option that can be turned off.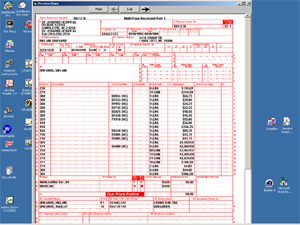 Fig.3 A single multi-page claim brought up with a command line argument. Just the claim is visible, no further interface (Click to enlarge)

You can process individual claims as well as batches of many. The output form is determined by the claim type. When the "Printer" output mode is choosen, the HIPAA Claim Printer prints directly to the printer, that you specify. If you chose "Image File" output, the program creates a Tiff file. You have many options to set the resolution of this file; from 600 x 600 dpi down to 50 x 50 dpi. You can choose color, grey scale or black and white mode for the image file. You can save the Claim as an individual image file with its own generated filename to allow easy retrieval for CSR or workflow systems etc.



Fig. 3 shows the Windows Image viewer with a Tiff file of a hospital claim. (Click to enlarge)


Integrated into the product is also an EDI viewer. This is a special text viewer that allows you view the content of the EDI file color coded and with each segment on a new line. Sometimes it is very helpful to see the raw EDI data segments in order to debug or fine tune the processing of EDI.



Fig. 4 The EDI file editor. (Click to enlarge)


Since not all the information in the EDI file gets printed on the standard forms, a different screen allows to view the document info and the envelop data. This information can also be printed.



Fig. 5 shows the additional document and envelope information. (Click to enlarge)